Your mitochondria, which are the tiny engines that power your 37 trillion cells, create up to 90% of your total cellular energy. They are at high levels in your youth but diminish significantly with age. New scientific advancements in cellular nutrition discovered how to create new mitochondria which is considered by many scientists to be the future of anti-aging. Bode Pro has created a proprietary formula that works to help your body create new mitochondria and operate at full capacity while producing energized and more youthful cells.* TEN provides a critical foundation to help you AGE SMARTER.*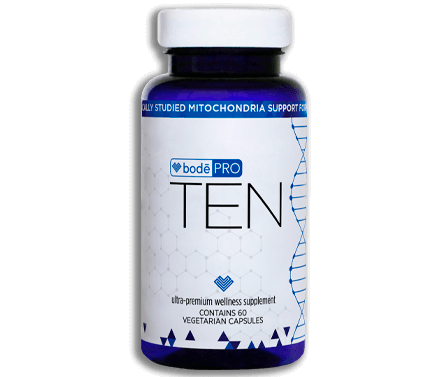 This powerful formula is the future of anti-aging nutrition and features:
PQQ - a potent antioxidant that supports the production of mitochondria and promotes healthy mitochondria function.*
CoEnzyme Q10 - A vital antioxidant that supports increased energy production at the cellular level.*
Magnesium - a essential mineral that plays a crucial role in the energy production pathways within your mitochondria and helps enhance mitochondria functional role within every cell.*
Niacin - A powerful antioxidant that helps prevent damage to your mitochondria.*
Riboflavin - an essential vitamin that helps support increased energy levels.*
Shop Now
The revolutionary TEN is scientifically designed to create real change inside your cells. No caffeine, no crash, no temporary energy boost, just pure cellular nutrition and support.
TEN provides you with a convenient way to improve your energy levels, increase your stamina, and unlock your potential from within.* Age Smarter with TEN.
TEN is a potent supplement so be sure to take with a meal or a full stomach.
*These statements have not been evaluated by the Food and Drug Administration. This product is not intended to diagnose, treat, cure or prevent any disease.